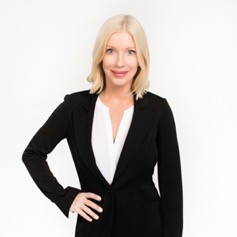 Marilie Bunce
DRE # : 01374883
(949) 357-9936
Marilie Bunce has a passion for telling the story of the land and the lifestyle it delivers. She knows that every property has a history and a heart, just like her clients. An Orange Coast native and an agent since 2003, Marilie has vast experience in local real estate and a winning track record helping both buyers and sellers. She prides herself on finding the perfect fit and the best results for her clients, exemplified by her representation in 2017 of sellers who earned what was then the highest price per square foot in Laguna Beach.

Combining local insight with sophisticated knowledge, Marilie has a keen eye for style and luxury. After studying fine art photography at Parsons School of Design and leading a successful career in fashion design, she sought to explore her potential through her lifelong passion for real estate. She left the ranch she called home—where she reveled in wide-open spaces, treasure hunting for property lines—and returned to her roots in Newport Beach. Now an associate of the Stavros Group and Douglas Elliman, she is delighted to apply her talents and calm demeanor, sharp negotiation skills, and a lifetime of local knowledge towards helping her clients fulfill their dreams.

Marilie gained her love for real estate at a young age. Growing up in Newport and Laguna Beach, she was drawn to the water and the breathtaking homes that line the coast. Her father was a top agent himself. By age ten, Marilie was eagerly exploring the residential construction sites of Emerald Bay. As a RealtorⓇ today, her passion for discovery remains; but she no longer has to sneak around to view those beautiful properties. In every working hour and every interaction, her earnest affection for coastal real estate shines through.

Marilie believes that, just as every property is a new opportunity, so is every day a new and fortunate experience. When she's not helping her clients reach their goals, Marilie spends cherished time with her family. Her hobbies include screenwriting and film, directing and creating. She hikes the gorgeous local landscapes while dreaming up new ideas and angles to help her clients succeed. Above all, Marilie is passionate about sharing her love for people and the places we call home.