Why Life in a Newport Beach Home is a Dream Come True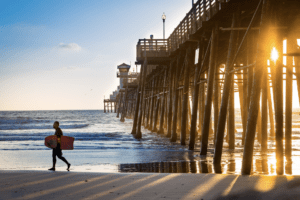 Many people long to live in a coastal location where beautiful beaches surround you and mild temperatures and sunshine is the norm. The town of Newport Beach in Orange County is one such California locale that seems to have everything. With wonderful residential neighborhoods and a number of living options that include gorgeous luxury homes and upscale condos, this seaside town is one to be desired. We're breaking down what makes this area so special and why you will immediately start wanting to look for homes for sale in Orange County so you soon can see yourself living in a Newport Beach home.
What People Are Saying About Life in Newport Beach
This town beside the sea boasts many stunning beaches and plenty of water sport activity options like kayaking, surfing, and boating. The water is warm, the sand is golden and there are some spectacular sunsets at dusk. There are plenty of shops, decent restaurants, and other eating venues. At night, there are some lively clubs, great music, and good company. There is something for everyone, and the people here are friendly. This is a nice alternative to big city life. If ever wanting some of that larger excitement, it is only an hour's drive to several bigger city destinations.
Advantages of Living in This Beautiful California Coastal Town
There are many advantages of living in this beautiful geographical location. The neighborhoods seem more like smaller town communities where everyone looks out for each other. The schools are superb, and the town is relatively clean. The great thing about moving here is the different choices in housing. There are wonderful single family homes, condos and apartment complexes. A sizable number of classy upscale homes draw many, and most neighborhoods feel safe. The beaches have nearby attractions like bowling, arcades, various clubs, picturesque hiking/biking trails and bars if you like that scene.
The Best Way to Buy or Sell a Luxury Home in This Area
While there are some good deals on upscale homes if you know where to look, it can be a bit difficult to buy or sell a top-of-the-line home without knowing all of the nuances of the real estate market in these parts. Working with an experienced realtor who specializes in these higher-end living environments is usually the best way to buy or sell these homes. Sellers often run out of time and might end up settling for far too low a price. Newcomers to the area often get hoodwinked into paying too much when buying a local luxurious home featuring added amenities.
If you find yourself in the market for a new home in Orange County and want someone knowledgable about the area to show you the absolute best Newport Beach, California homes for sale, then do not hesitate to contact us here at The Stavros Group. We'd be happy to help!