Newport Beach Luxury Homes for Sale and Recent Updates
Summer is already starting to draw to a close, but temperatures are just beginning to pick up….as is the market!
We have a unique selection of Newport Beach Luxury homes for sale available at the moment — from a gorgeous luxury farmhouse to an ocean view duplex on Balboa Peninsula to a custom Santa-Barbara influenced home within walking distance to the beach. Whether you're looking for some additional income or the perfect property for yourself, we strive to offer some of the best possibilities Orange County has to offer. And it has some stunners!
In other news, REAL Trends just released their 2019 America's Best Real Estate Professionals list, and we are so honored to have been added to this list!
According to Steve Murray, the president of REAL Trends, "Those individual agents and teams who make up the 2019 America's Best Real Estate Professionals represent less than 1.5 percent of all Realtors® in the country yet account for over 12 percent of the closed transactions and more than 22 percent of all the sales volume closed last year."
What an amazing statistic to be a part of — our goal is to keep this momentum going and continue to perform our best for the best clients. I once read the following quote and it seems fitting:
"Don't work for recognition, but rather do work worthy of recognition."
This is what we strive to accomplish every day we come into work! Numbers are great, but a satisfied client is lasting. 
We've had a few new spectacular properties come on the market recently that I must share with you!
Looking for an investment opportunity in Newport Beach, or just need a multi-unit property for you and your family? We've got a great one for you.
This ocean view dual complex home at 216 21st St. is a great income-producing property. This property comes fully furnished, and you can immediately enjoy rental income from existing short term rental bookings. The upper owner's unit features 3 bedrooms and 2 baths, a large master, vaulted ceilings and open floor plan. The downstairs unit features 2 bedrooms and 2 bathrooms with a rear private patio. Both units completely remodeled with new cabinets, travertine floors, granite countertops, recessed and cable lighting, tankless water heaters and stainless steel appliances. Exterior and interior freshly painted. Newer windows and doors. Located close to Newport Beach Pier, restaurants, shopping and night-life. All utilities have been separated, making this the ideal income property.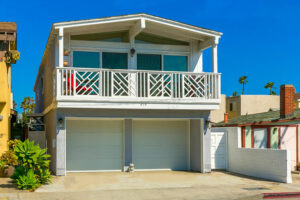 And we can't get over this gorgeous luxury farmhouse-style home at 2101 Leeward Ln. that was just reduced by $220,000! Completed in 2019, this exceptionally appointed home in Newport Beach's Dover Shores community showcases on-trend style and state-of-the-art smart-home technology. Curb appeal is off the charts, with Modern Farmhouse architecture complementing a soft-contemporary interior with 6 bedrooms, 4 baths and a bonus room in approximately 4,226 sq.ft.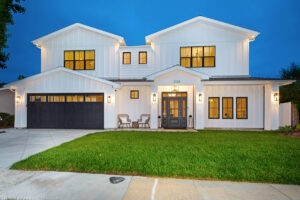 As always, do not hesitate to reach out with any real estate questions or needs! We hope to hear from you!