Andy is joined by Jennifer Farrell, host of Most Amazing Homes, to show off the breathtaking, bluff-top property at 56 N La Senda.
JENNIFER FARRELL: We're in Laguna Beach, California in a newly constructed modern masterpiece, where you're not just looking at the ocean you're in it. Let's take a look!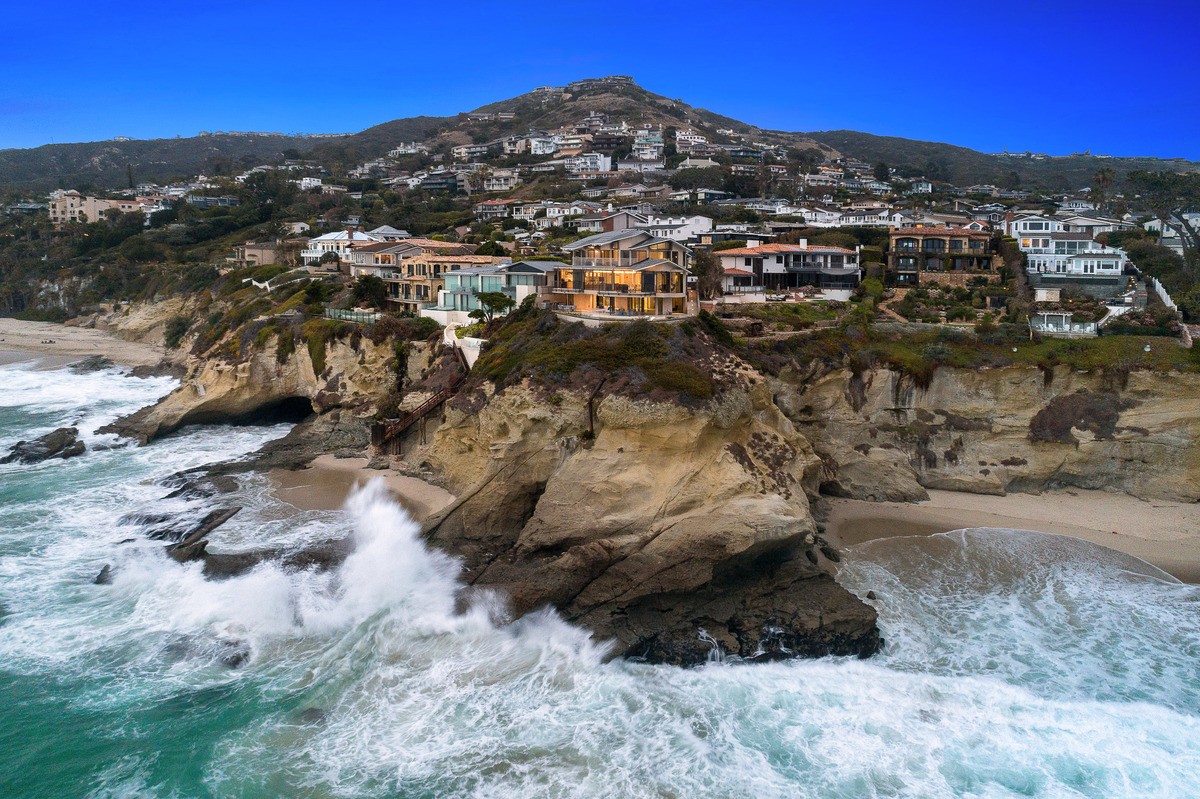 JENNIFER FARRELL: So we're here in Laguna Beach and we are at an 'in the ocean' home – tell me about this home.
ANDY STAVROS: So the house sits in the Three Arch Bay private gated community of just under 500 homes of brand new construction. The architect was Mark Singer – very well known here in Laguna Beach. [This home] was his last design unfortunately before he passed, but again just a warm contemporary feel that you'll see once we get inside.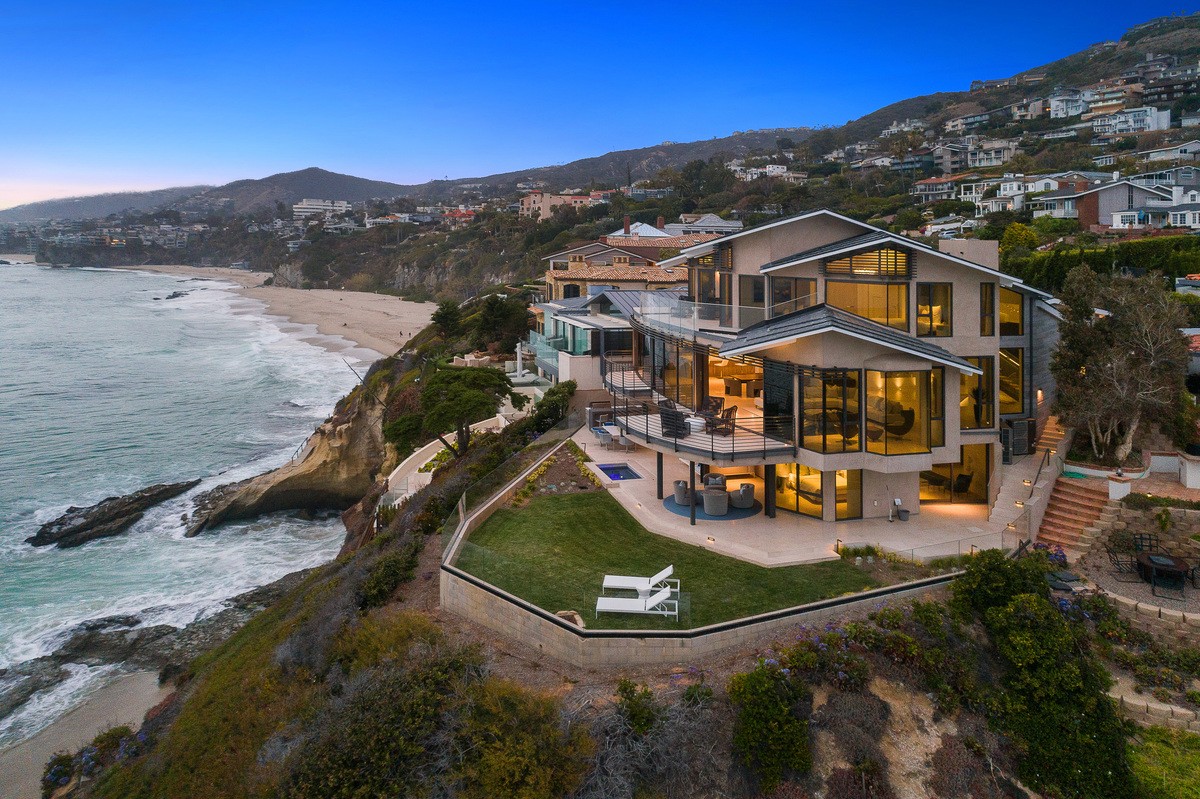 JENNIFER FARREL: This is a multi-level home overlooking/overhanging the ocean… How many bedrooms and bathrooms, and how big is this house?
ANDY STAVROS: The house is just over 5,000 square feet with five bedrooms and seven bathrooms, three levels, an elevator that takes you to all levels including the master… It really is one of those turnkey, lock and go homes.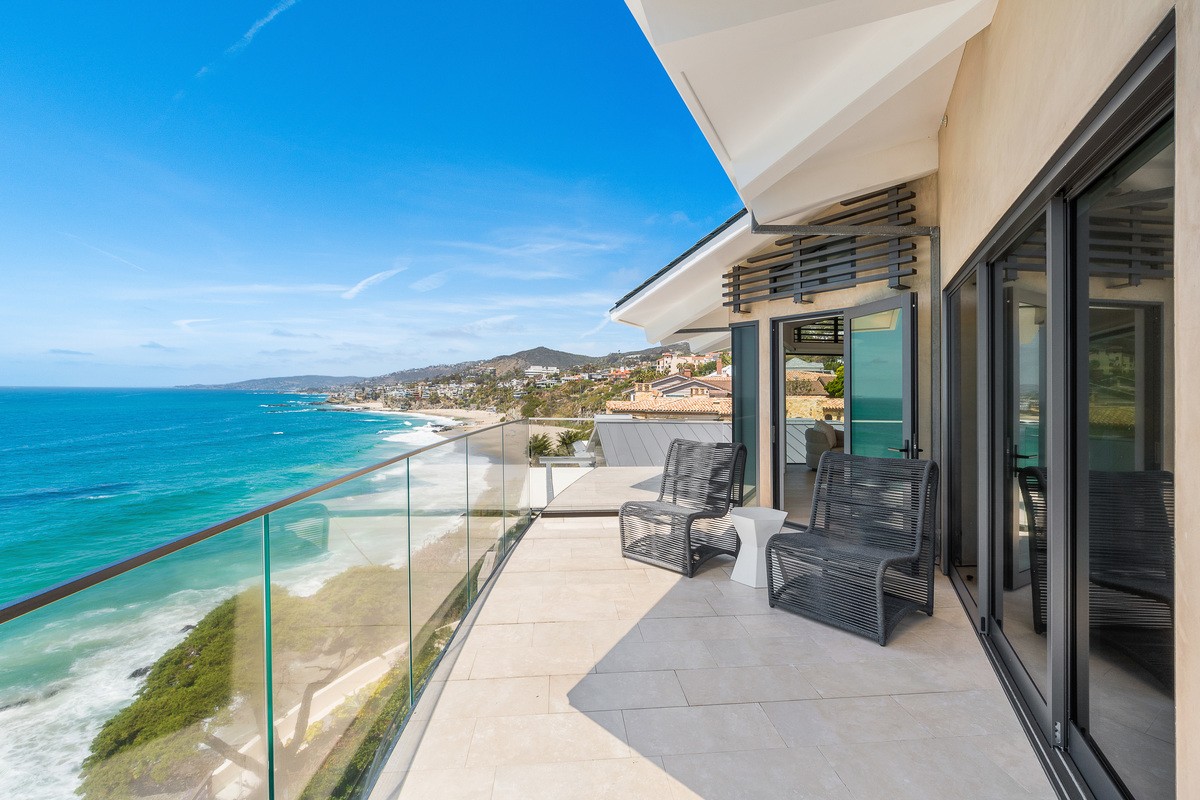 JENNIFER FARRELL: Well I can feel the ocean breeze behind me, I'm dying to see the ocean view. Lead away!
ANDY STAVROS: All right, let's go.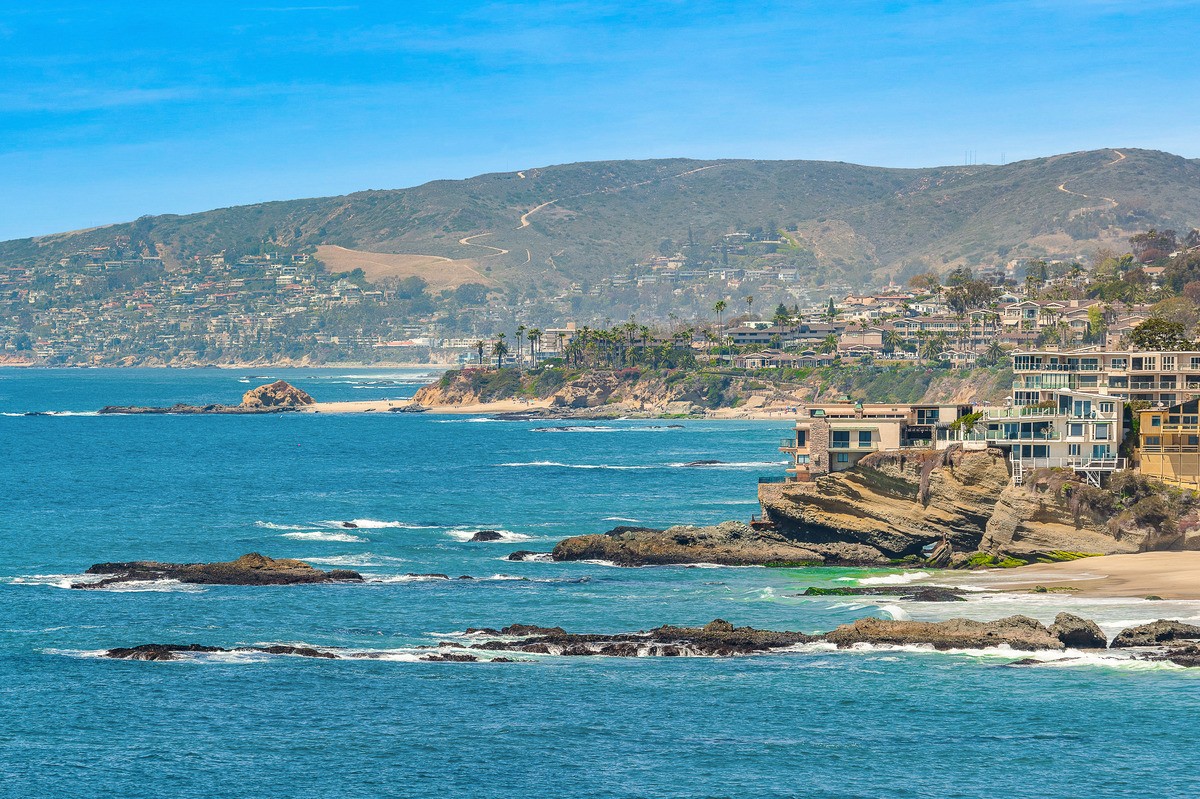 JENNIFER FARREL: Wow, we're not looking at the ocean we're standing over the ocean. This is unbelievable, it's a view that I think few people have ever seen.
ANDY STAVROS: Yeah, it feels like you're on a boat when you walk in… This is the time in a tour where I just stop talking, because everybody's gravitated towards the view on the deck. I just allow people to take that all in, because it is breathtaking once you walk into this room.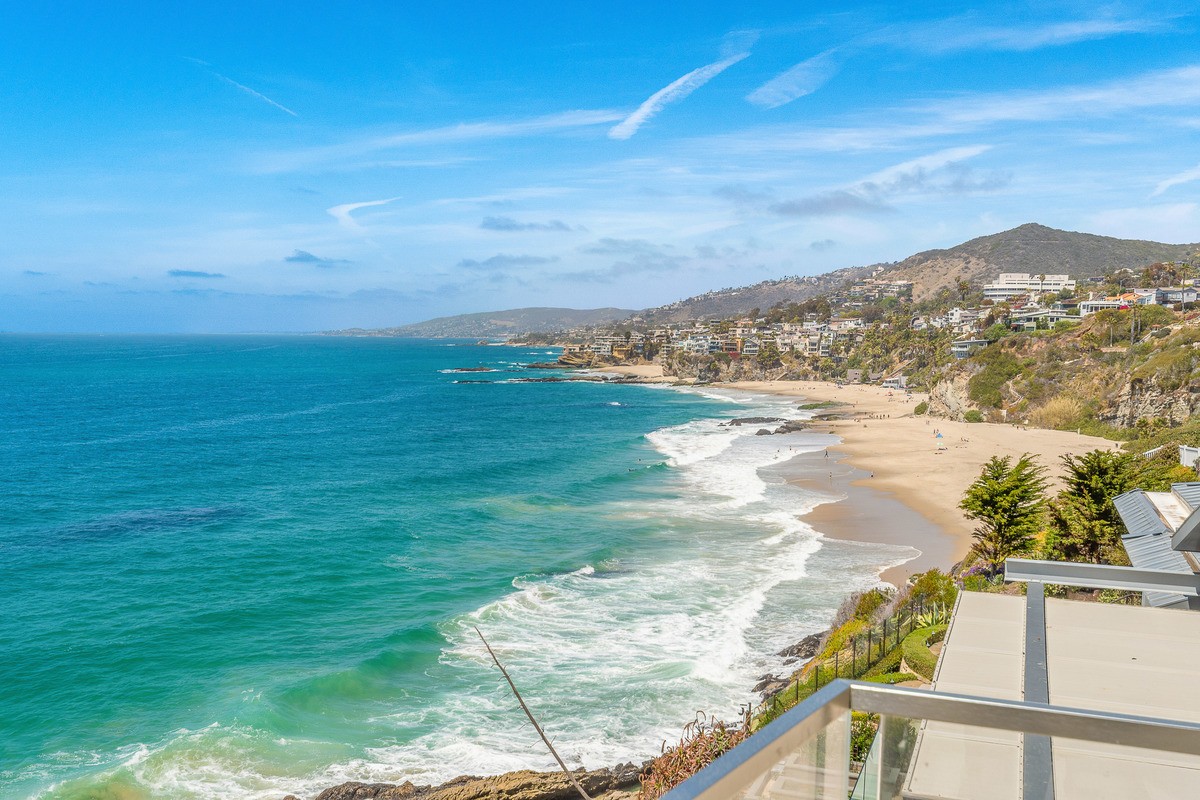 JENNIFER FARREL: You know you're right, it is like being on a yacht. Even the railings for the balconies are a horizontal metal, so it actually feels like we're on an ocean liner. I love all of the contemporary beautiful lines here – it's a very clean color palette, very open space, without crazy high ceilings. Because the ceilings are not overwhelmingly high, you still get a feeling of coziness and intimacy in this house.
ANDY STAVROS: Right you do get the coziness. Because of height restrictions and view obstruction, you occasionally have to compromise high ceilings, but you still get a sense of openness to the house with the colors, the design and the finishes throughout.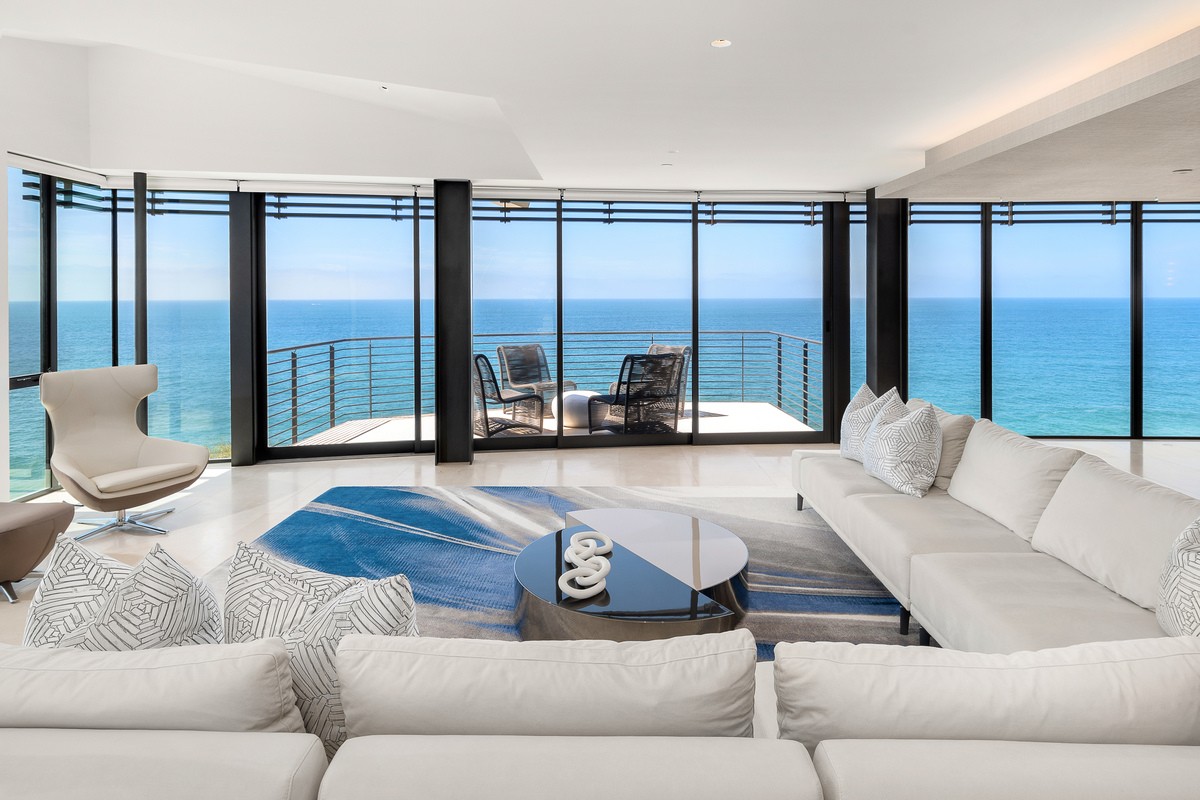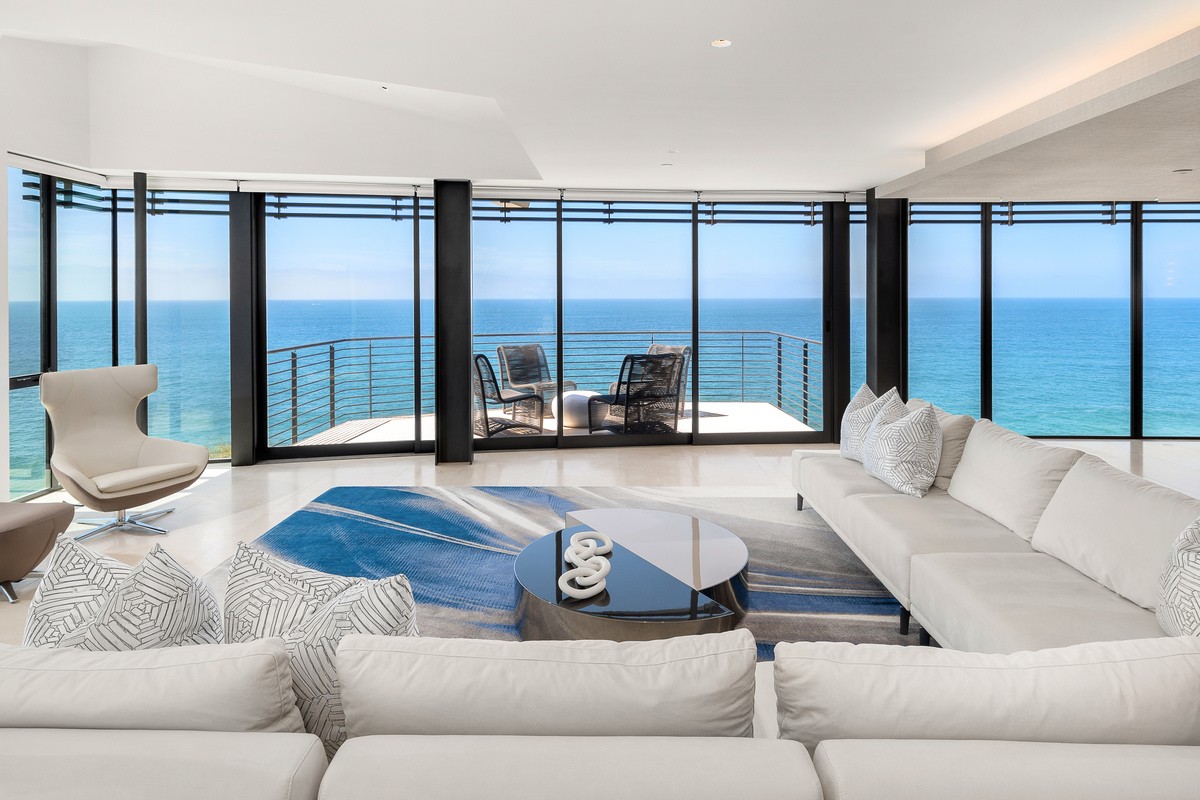 JENNIFER FARREL: I happen to love this portico that's in the middle of the room. It's such an interesting way to create an indoor veranda space, so you feel like you're outside in an outdoor covered patio area, and yet you're right in the middle of the house.
ANDY STAVROS: Right absolutely, and you'll see a blend of the industrial look with the beams exposed but painted. I'm sure you can tell this house sits on bedrock, so much steel, it's not going anywhere, and here's just evidence to prove that it's a solid house with a solid foundation that was just recently built.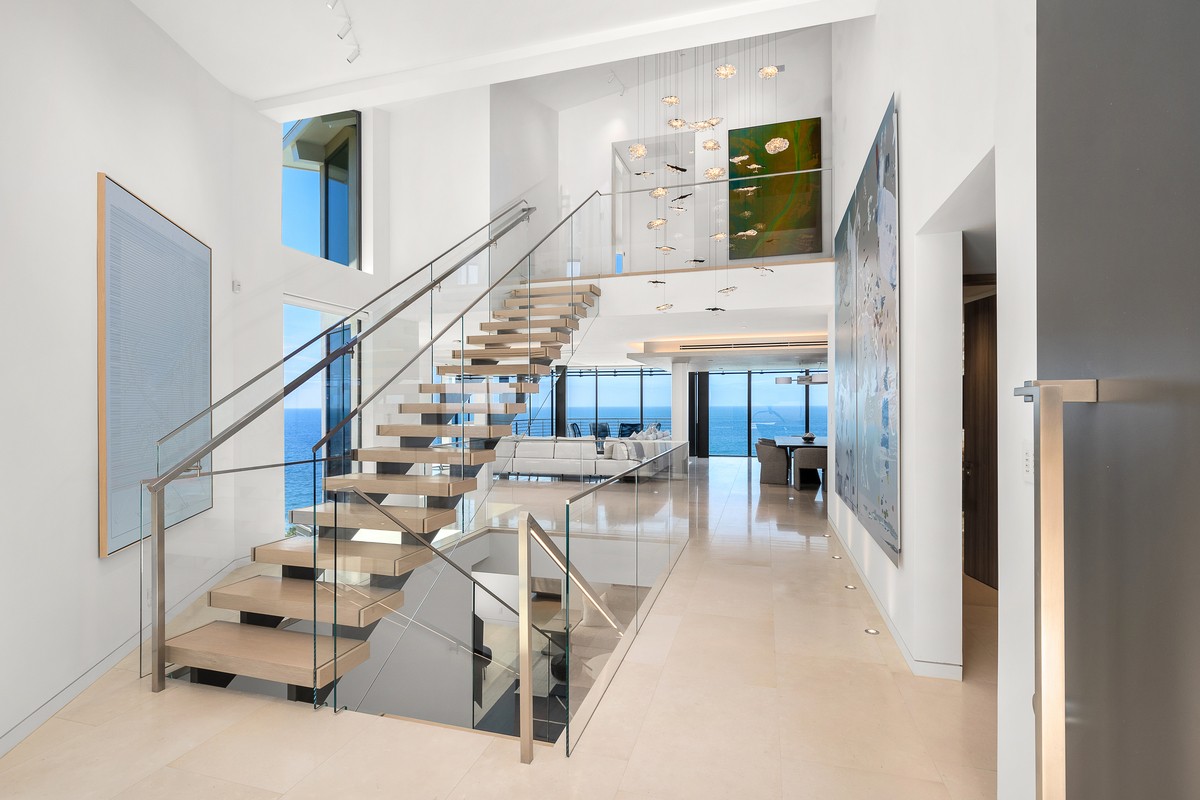 JENNIFER FARREL: Well this home may not be going anywhere, but we are going somewhere – I'm dying to go in that kitchen.
ANDY STAVROS: All right, let's go.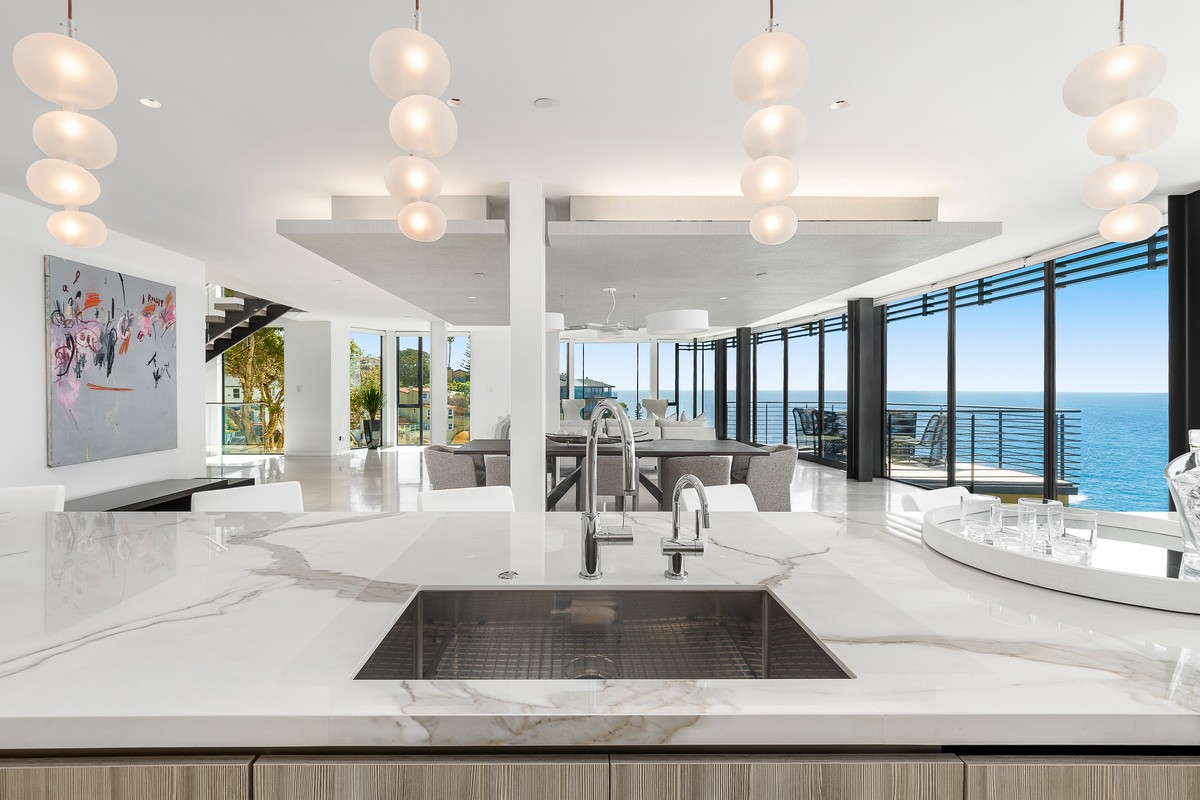 JENNIFER FARREL: Although I would love to say I'd be doing a lot of dishes here, I may just stand here staring out at the view.
ANDY STAVROS: There is a little bit of a distraction. You might burn your food as you're cooking here, because you just want to gaze outside.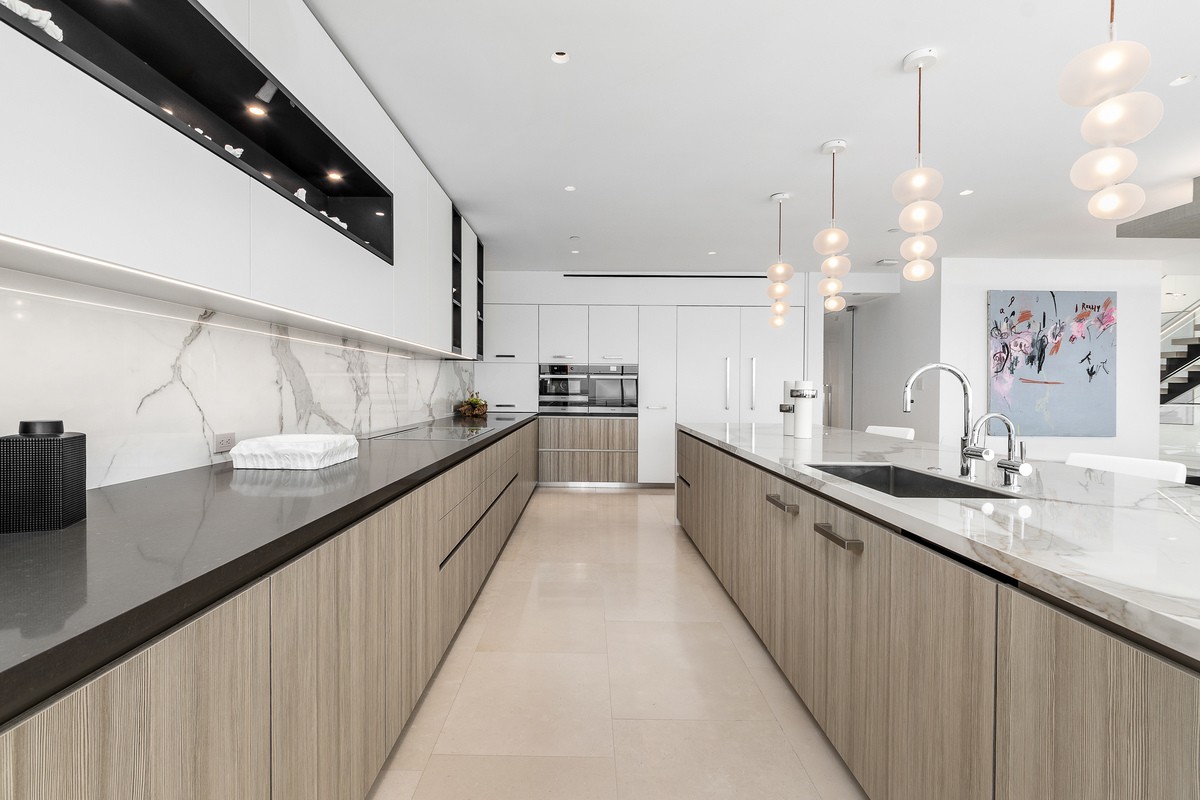 JENNIFER FARREL: That is true, although there's a lot to see in this kitchen itself. These counter tops are actually porcelain slabs, which means they're as durable as a tile, but have the gorgeous look of marble. I also think that the surrounding caesar stone behind us makes a great counterbalance. The materials here are really nicely laid out.
ANDY STAVROS: Right, you'll see the beautiful contrast with the wood grade finishes, the vertically opening white cabinetry, all the high-end appliances – gagging out melee, sub-zero refrigerators, etc. It's a very functional chef's kitchen.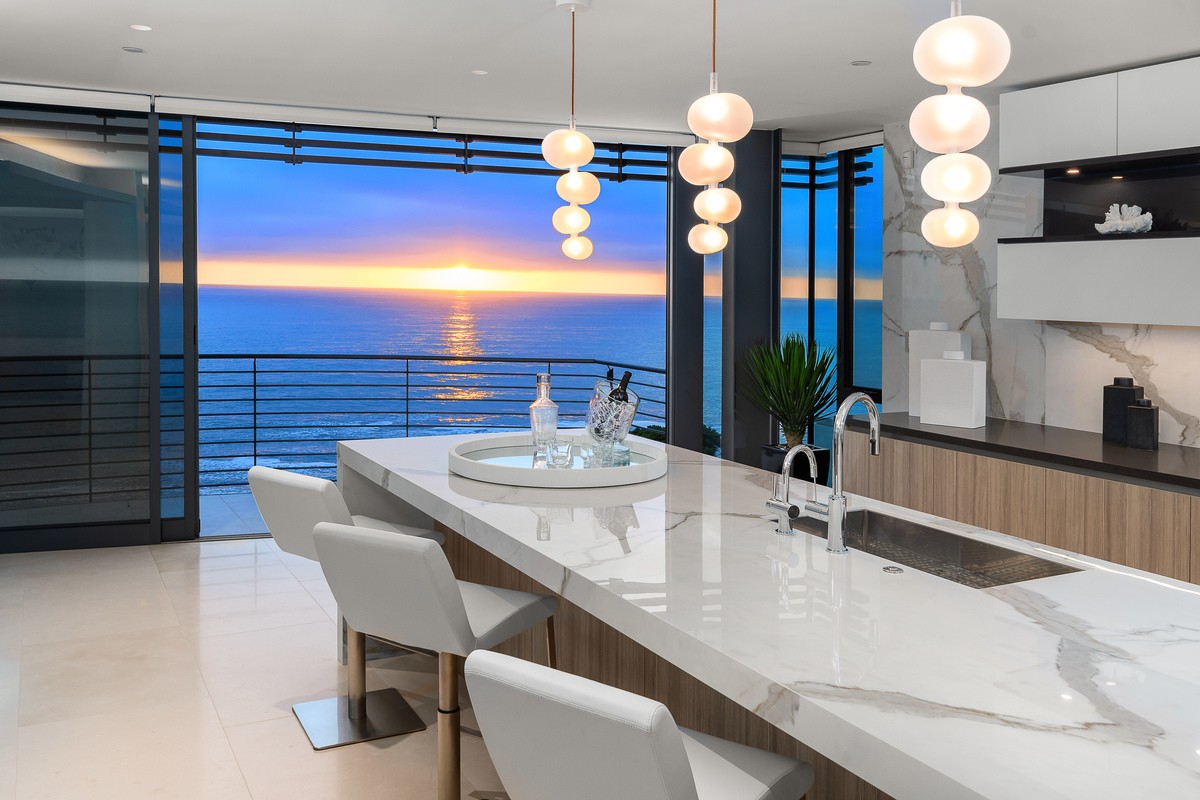 JENNIFER FARREL: We have glass surrounding us. We have beautiful artistic touches, like that porcelain faux marble slab again and unique lighting which I've never seen.
ANDY STAVROS: Yeah, throughout the house the light fixtures are all unique, but complement each other. You can also see some of the same materials from the kitchen used here on the fireplace.
JENNIFER FARREL: Well this one's definitely unique, because you have this frameless glass wet room that becomes part of the bedroom. It's a very resort feel here.
ANDY STAVROS: Right, it gives you an open feel and who wouldn't want to wake up every morning staring up the coast – from Thousand Steps Beach all the way down to Palos Verdes, Catalina Island, etc.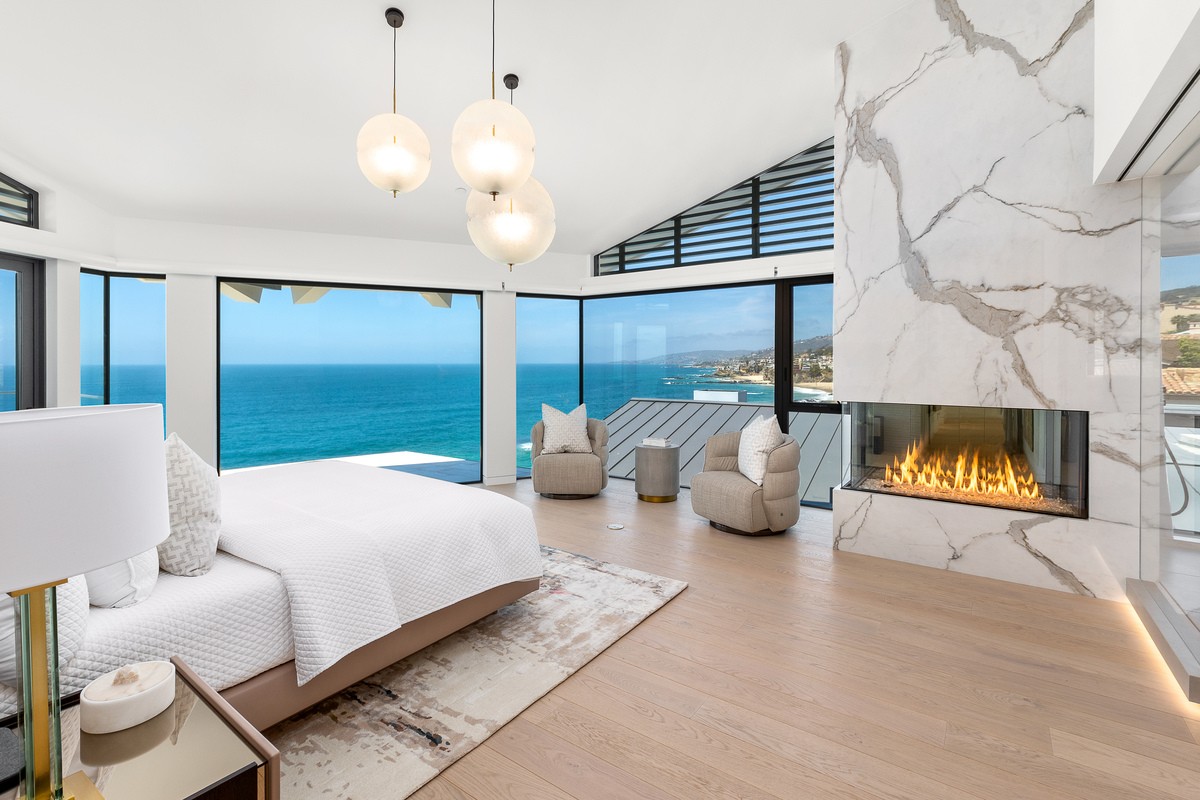 JENNIFER FARREL: The view here could not be more spectacular. I'd love to see the outdoor space.
ANDY STAVROS: You get 270 degree views in this home, with every room positioned differently.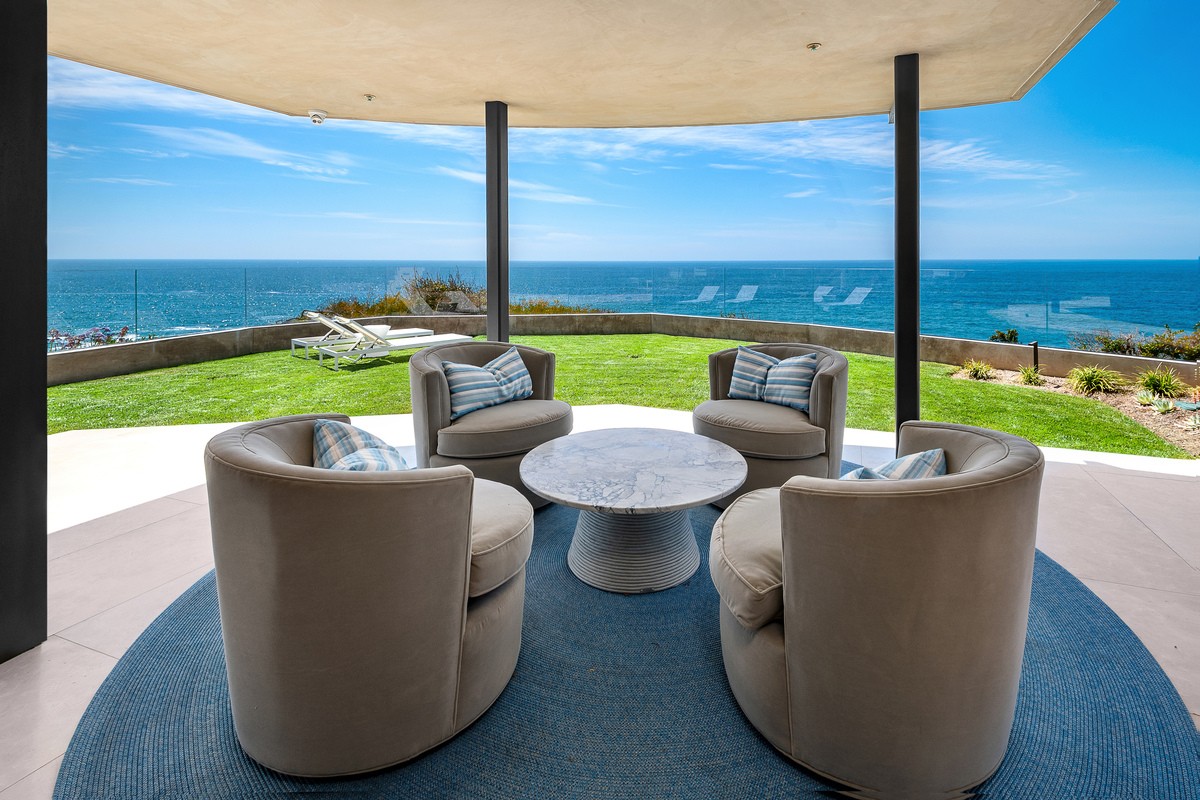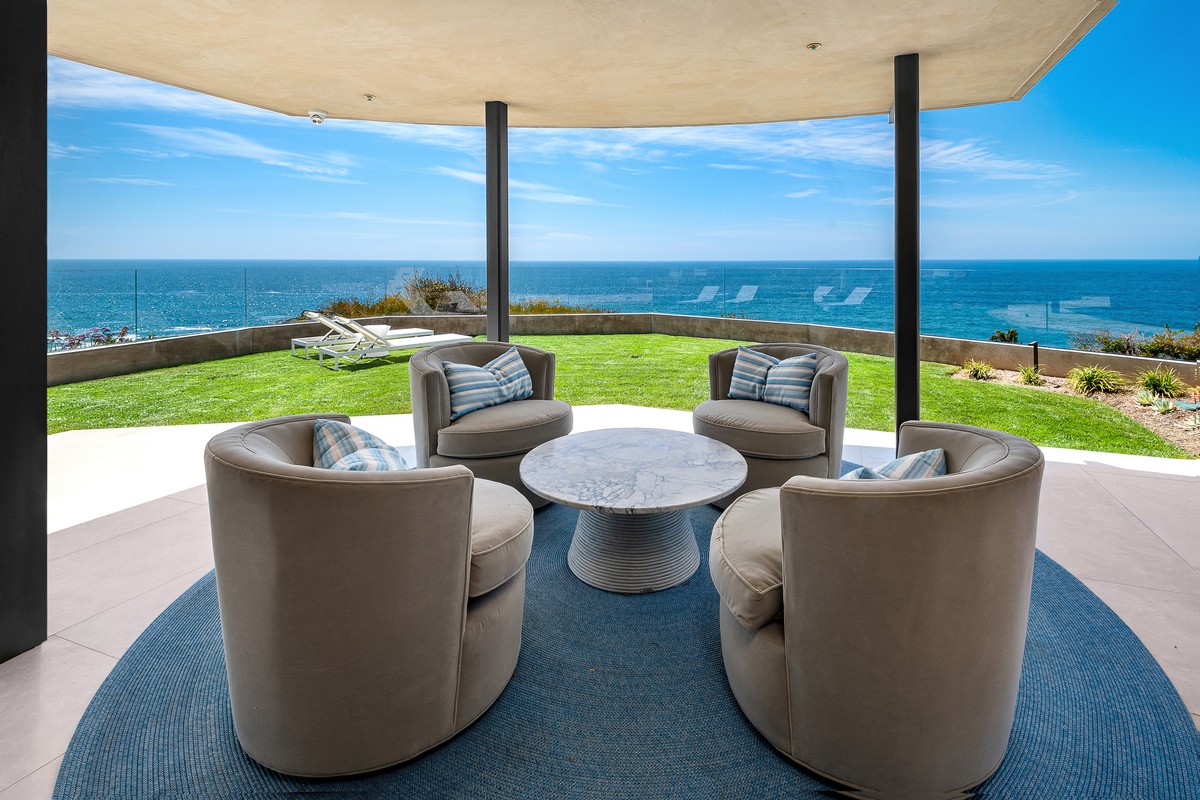 JENNIFER FARREL: I can't believe we have a yard here!
ANDY STAVROS: Grass on the bluff front is rare to find! Today you can hear the waves crashing against the rocks. Out here there are multiple entertainment spaces, if you didn't have enough upstairs; a spa, barbecue area, wet bar, more cooking space, etc. it's a great level to be on.
ANDY STAVROS: In total the home is 5,041 square feet – five bedrooms, seven bathrooms, elevator, three-car garage, laundry on the ground level… It's a really fantastic home for somebody that's looking for a house that's ready to go with no blood, sweat, or tears. Zero maintenance with a 15 year design and build process, priced just under 20 million.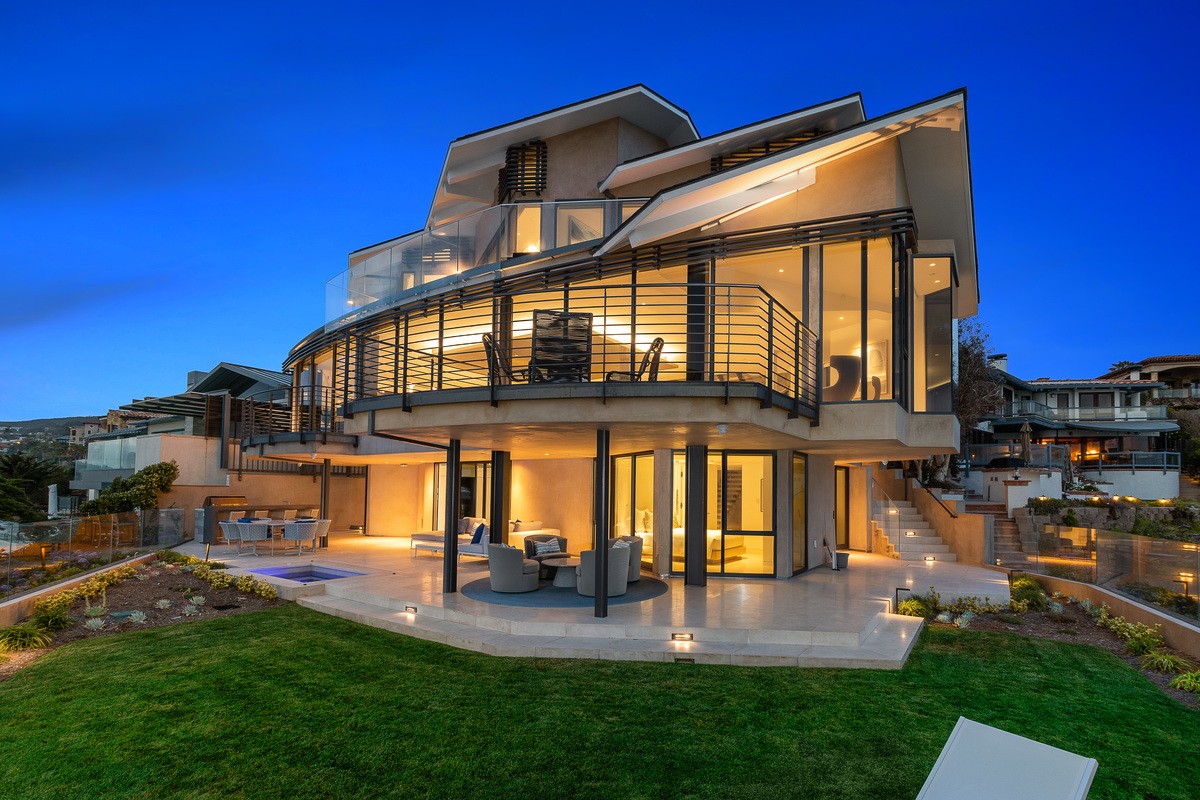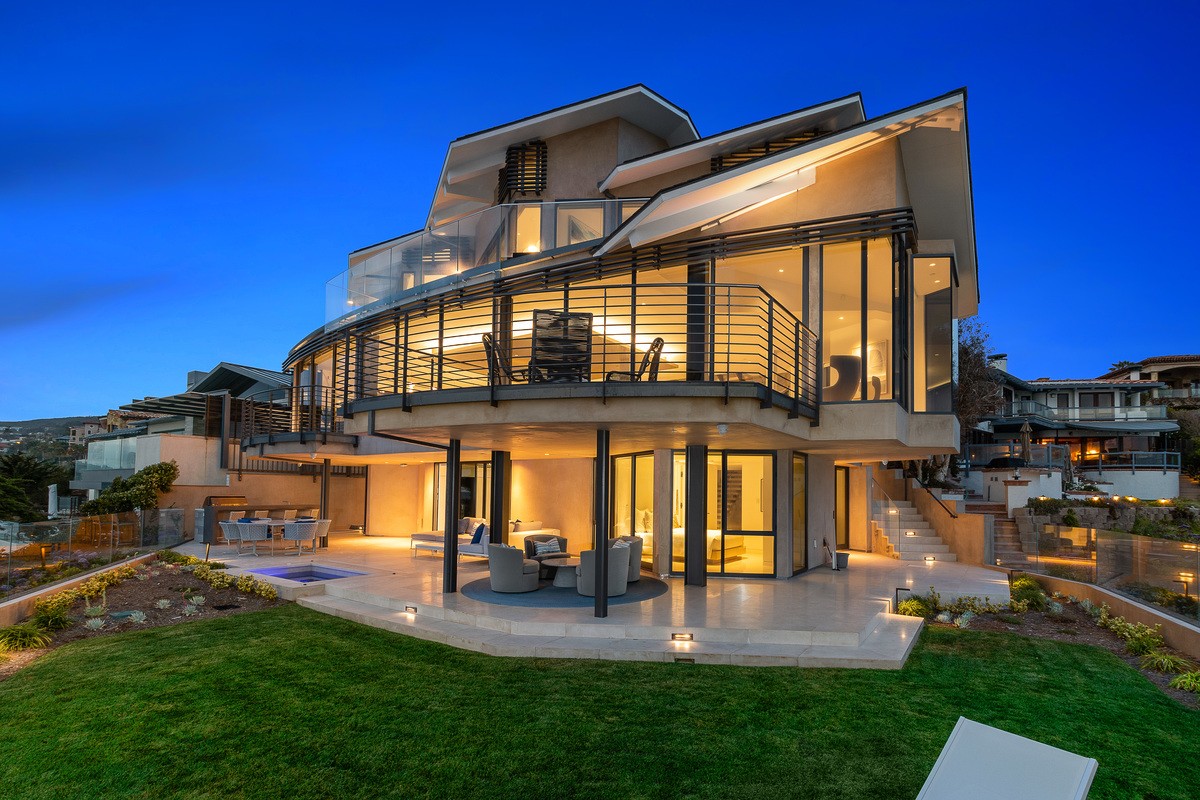 JENNIFER FARREL: In this area that's actually a deal.
ANDY STAVROS: We also dropped the price five million dollars, so it's on discount.
JENNIFER FARREL: This is an amazing home and an unbelievable once in a lifetime property. Thank you so much, Andy.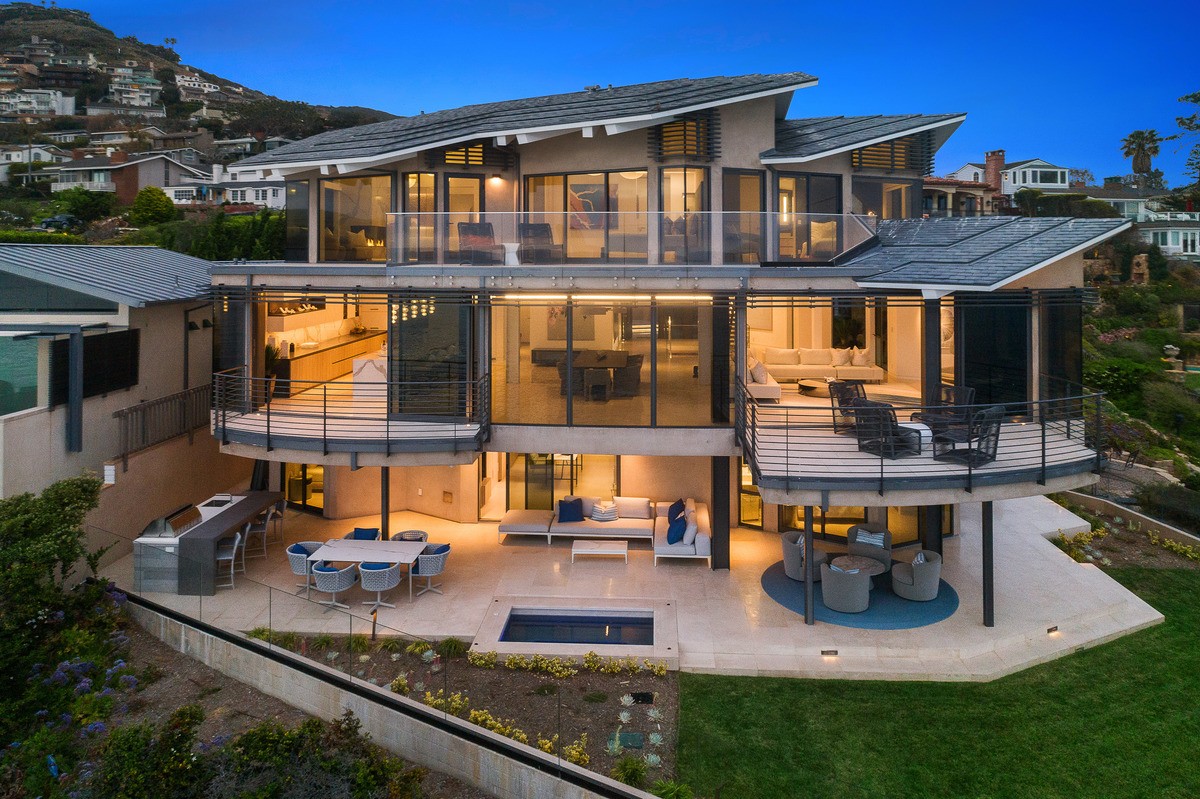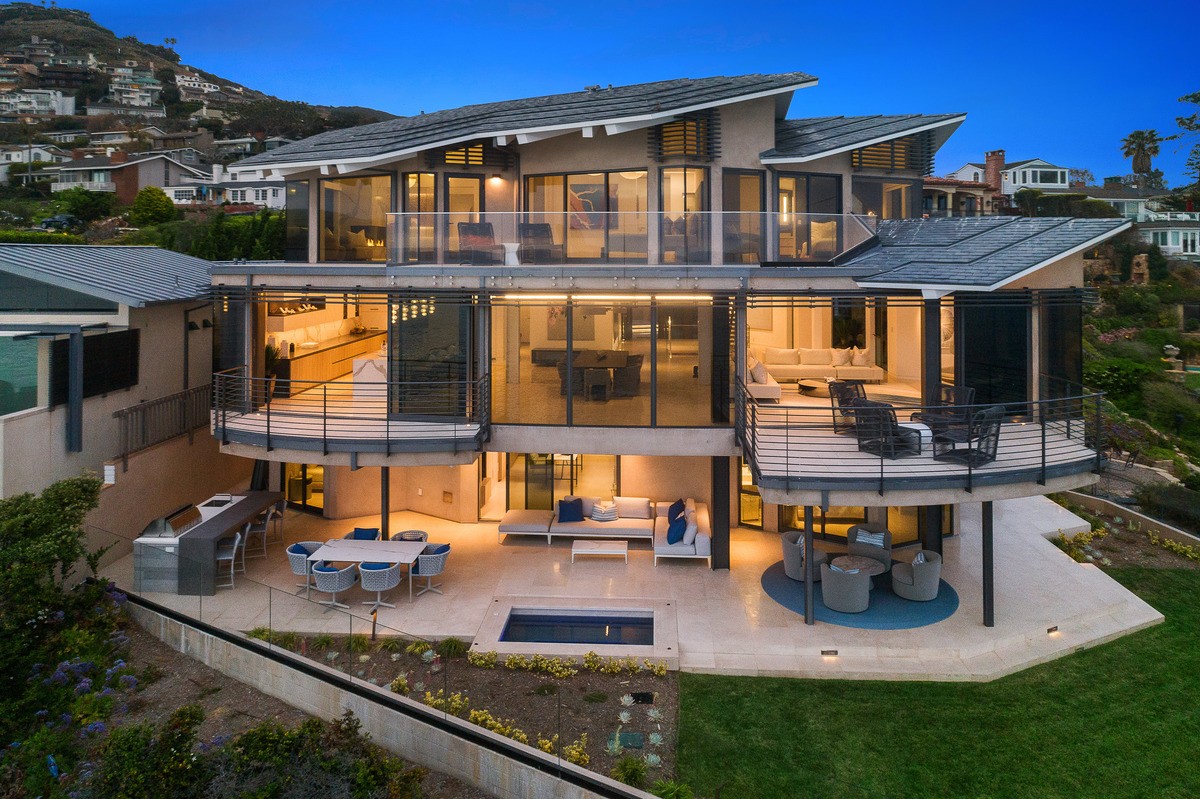 If are considering buying or selling a home in the Orange County area, connect with us. See how our local, experienced and well-connected team can exceed your expectations. Let's talk strategy!