The Best Newport Beach Neighborhoods: A Look at Balboa Island
You've decided to make the move to Orange County and you've even started browsing some houses for sale in Newport Beach. If you're new to the area, the next step in your house hunting journey may be, "What is the best neighborhood for me?" We're here to help!
Welcome to the second edition of our Neighborhood Spotlight Series, where we provide a little insight into some of the best neighborhoods Newport Beach, Laguna Beach and Corona del Mar have to offer. This way you can feel more comfortable in the purchase of your new home in Orange County.
This month we will be featuring Balboa Island, a charming little island community in Newport Beach. This harborside neighborhood may be small, running only 2.6 miles in circumference, but what it lacks in size it more than makes up for in charm. An iconic Newport Beach destination, this man-made island is densely-packed with a unique mix of charming cottages and modern, newly-renovated homes. This quaint yet vibrant community has a small-town feel with still being only minutes from the excitement that Newport Beach has to offer. After setting one foot on this island, you'll be looking at Balboa Island homes for sale!
We have created an infographic to provide a quick glimpse into some of the housing and residential statistics that a potential homebuyer may be interested in for this community. We hope you find this information helpful!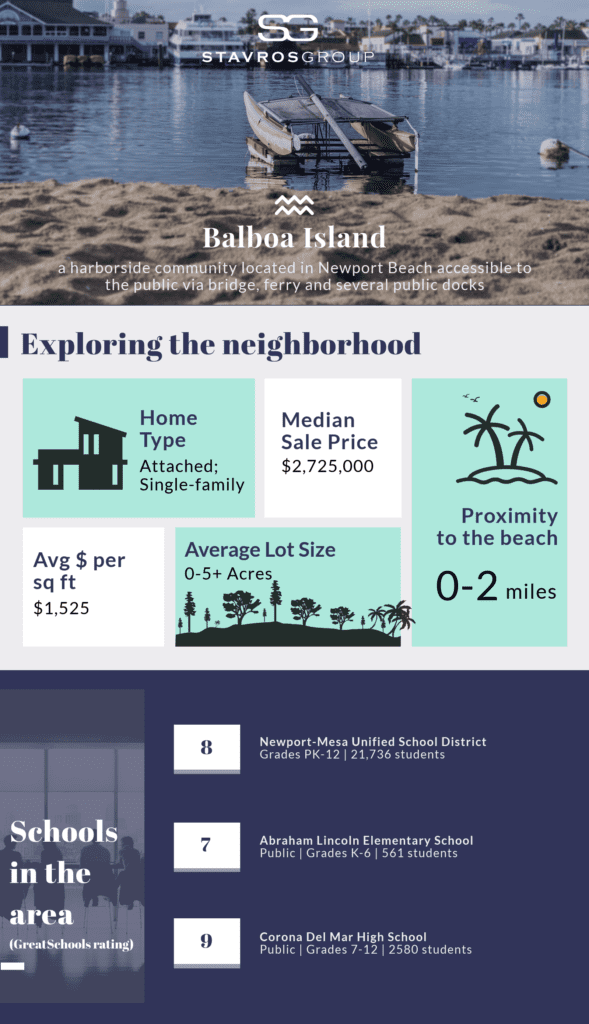 One of the charming, highly sought after homes in the Balboa Island neighborhood is this one of a kind property at 1305 Park Ave. This charming coastal cottage is one of the most attainably priced homes for sale on Balboa Island. Just one block from the beach, mere steps from the classic Village Inn, and a quick stroll to Hersheyâs Market, you have tons of wonderful amenities within reach!
We know that trying to settle on the right Newport Beach neighborhood as you're looking at homes for sale in Orange County can be tricky, but here at The Stavros Group we're here to provide a helping hand and make the process of buying the Newport Beach home of your dreams as easy as possible. Please do not hesitate to give us a call!