How To Increase The Value of Your Orange County Home for Sale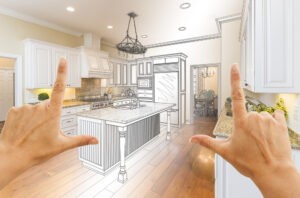 The time has come to put your Orange County home for sale. You most likely know that your home will increase in value due to inflation over time, leaving you with more money in your pocket than what you paid for it. But many homeowners want to put their best foot forward when selling their home, offering their home in peak condition by completing renovations and in turn increasing their resale value. So how can you increase the value of your Newport Beach or Laguna Beach home for sale so that you're able to walk away with even more of a profit? Read on to find out what home projects are going to be most advantageous in getting you a higher resale value.
A study conducted by Porch surveying 781 homeowners who have sold a home in the past 5 years found that sellers, on average, got around 7% more than their desired asking price when they did some sort of home renovation project before putting their house on the market. The project that was found to lead to the highest resale value? Construction. The data shows that those who chose to do construction on their home got an impressive 21.1% above their desired asking price when sold. Other popular renovation projects that were cited as adding value included updating multiple bedrooms or bathrooms (14% more than desired asking price), purchasing new appliances (11.5% more), kitchen renovation (8.2% more) and painting the exterior (6.2% more).
See the breakdown of the home renovation projects and just how much value they can add on the graph below, generated by Porch.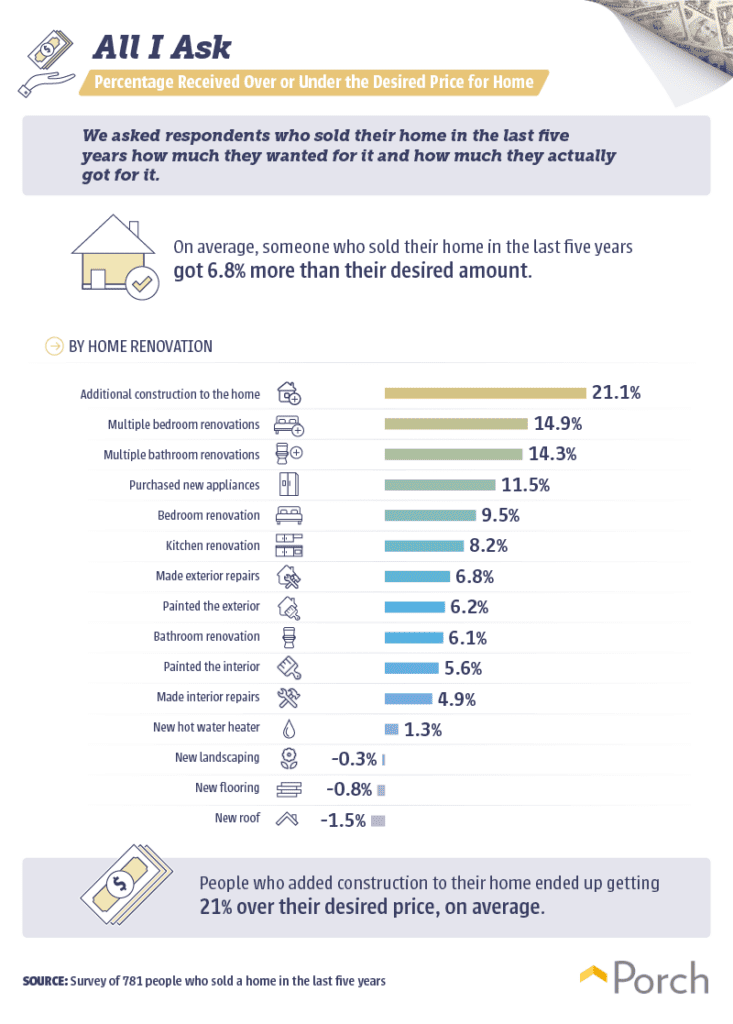 Image Source: Porch
The study also surveyed 22 real estate experts, gathering their input on things such as pre-listing project recommendations and where to focus your home renovation energy and budget. According to the majority of the experts, the project that agents are most likely to suggest to clients is painting the interior of their home, as this is one of the least costly projects, yet it can still go a long way by transforming the aesthetic of any space.
If you're willing to tackle more full-on home renovation projects, the experts recommend refreshing the kitchen or bathrooms. These are some of the rooms that buyers are attracted to first and where updates will go the farthest. It is important to keep in mind that renovation projects can get quite costly, though, so if you're not wanting to overhaul an entire room, remember that there are smaller projects you can do to a space to still spruce it up. Replacing only the cabinets, for one, can still give your kitchen quite the facelift. Or change out some of those dingy appliances you've had for years to some shiny new stainless steel ones. Smaller touches like these still go a long way and are sure to add more value to your home. If you're smart about where and how you budget your home renovation projects, your return on investment could be quite worth it.
Regardless of the magnitude of the renovation you put into your home before putting it on the market, one of the most important pieces of the puzzle is pricing accurately. When it comes time to put your Orange County home for sale, you don't want to overprice your property for fear of driving potential buyers away. However, if you undervalue it you could be walking away with less money in your pocket than it's actually worth. It's a tricky situation knowing how to accurately price your Newport Beach or Laguna Beach home for sale, which is why it's imperative to have a knowledgeable real estate professional by your side through this process. Here at the Stavros Group, we would be honored to be that guiding hand through the process of selling or buying. If and when the time comes for you to buy or sell, we would love to be of service!