March Events in Laguna Beach: Get Your Art Out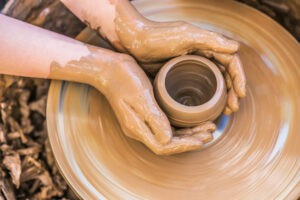 If you had to choose a handful of the most gorgeous spots in California, Laguna Beach would definitely make the list. This seaside resort in southern Orange County has remained relatively protected from urban encroachment by its topography: rolling hills surrounding it, a dedicated greenbelt and limited access from the highway.
Laguna Beach was officially founded in 1887 following the Mexican-American War. Around 23,000 people call it home, and its primary source of income is tourism, with much of tourism coming from the many art festivals held here each year.
Laguna Beach has been an art colony from its roots. Residents have welcomed three million people to the area for annual events including the Pageant of the Masters, Festival of Arts, Sawdust Art Festival, Art-A-Fair, Bluewater Music Festival and Kelpfest. We mentioned the Festival of Arts: it is a top-rated juried art show and features original works from 140 of Orange County's finest artists. It is the perfect spot to enjoy art workshops, dinner, guided art tours, music entertainment, hands-on demonstrations, as well as pick the perfect art piece for your home or business. Mark your calendars for Festival of Arts July 5-September 1.
Creating and displaying art is important to the residents in Laguna Beach. Committees place art in public spaces, everything from the artist original lamppost banners to street corner art. You can enjoy art as a spectator with the many art festivals, or 'get your art out' at art classes, exhibits, and the First Thursdays Art Walk.
Of course, there are many things to do here in March and beyond: here are a few of our favorites.
A Brief History of Laguna Beach
Thursday, March 22nd at 6pm
The former president of the Laguna Beach Historical Society will be giving a talk on the history of the heyday of the Laguna Beach Art Association, which paved its way in the Roaring 20's and never looked back. In the beginning, members of the Laguna Beach Art Association showed their works in a cottage, but thanks to a fundraising effort by painter Anna Hills, the Association opened a custom-built gallery in 1929. Art history runs deep in Laguna Beach, and The Stavros Group is delighted to be part of it!
"Photography from the Inside Out"
Thursday, March 15 4-6pm
You might call Jeffrey Rovney a Renaissance man: he has worked as an attorney, software design, magician, and photographer. He will share stories while he showcases his circus-themed photographs.
You've Got the Write Stuff
Saturday, March 24th 10:45am-12:15pm and 1:00-2:30pm
The Soul Project
1516 S Coast Hwy, Laguna Beach
The Soul Project is hosting a workshop which will cover the basics of modern hand lettering using brush pens. If it sounds intimidating, it's not: it will be taught for beginners by Olivia of Atiliay, and will provide you the foundation needed for writing beautifully. She will teach you the right tools to use, how to use your brush pens to create basic strokes, write the upper and lowercase alphabet and faux calligraphy. Not only will she give you one-on-one guidance during the workshop, but you'll also receive a starter kit with writing tools, workbook, worksheets and paper.
"The Bad and the Beautiful"
Starring Lana Turner and Kirk Douglas
Film night: Thursday, March 15 at 7pm
This 1952 classic tells the story of an unscrupulous movie producer (Kirk Douglas) who does anything necessary to get to the top of the studio system, discarding his movie star (Lana Turner), his director and writer along the way. The museum's curator Janet Black will introduce the melodrama.
We love the artistic life and vibe of Laguna Beach. We would love to call you neighbor, so if you are interested in moving to this vibrant area, give us a call! We are the luxury real estate standard in OC!