Summertime Events Not to Miss in Laguna Beach
Photo courtesy: visitlagunabeach.com
Welcome to Laguna Beach! There really is no bad time to visit, but early in the summer is a great time to stretch your legs along its fantastic beaches. This sign welcomes visitors to Laguna. It was built in 1935, and still stands proudly on the corner of Forest and Park Avenues.
Happy to Be Here: What Should I Do?
Start with First Thursdays Art Walk
If you are an artist, love art, are creative, or want to be, or just love a creative vibe, Laguna Beach is a great spot for you. The art scene is very active all year long, and a good first blush look at the art scene is to take advantage of the First Thursdays Art Walk. It is an educational monthly art event, which is held every first Thursday of the months from 6 to 9pm. It is free to the public and showcases the diverse cultural art scene that you can find here.
Musically Inclined? Head to Laguna Beach Live!
There is no reason to ever be bored if you live in Laguna Beach. If you are looking for great musical talent in an intimate venue, check out Laguna Beach Live! Each year they present more than 30 concerts and free educational programs for kids at the Laguna Beach Boys & Girls Club and the Laguna schools, and also for our senior citizens at the Susi Q Center. There are some great concerts coming up in June, including:
The Barefoot Movement
June 10th 4-7pm
Laguna College of Art & Design
2222 Laguna Canyon Rd, Laguna Beach
CMT's Edge calls The Barefoot Movement "One of the most promising bands on the Bluegrass scene. Billboard magazine describes them as "Slices of Bluegrass, Country, Folk and even a little bit of Rock & Roll."
We think enjoying an afternoon of incredible bluegrass music and delectable BBQ sounds like a great time to spend relaxing in Laguna Beach.
About Jazz Wednesdays
Every other Wednesday
June 13-September 5
6 – 8pm
Seven Degrees event facility
891 Laguna Canyon Road
Jazz it up every other Wednesday in Laguna Beach. Some of the hottest jazz musicians in our area will tune their instruments to give you a memorable performance, all in an intimate setting. A full buffet and bar menu are available for purchase when the doors open at 5pm.
Small Settings
Did you know the world's second smallest cathedral is right here in Laguna Beach?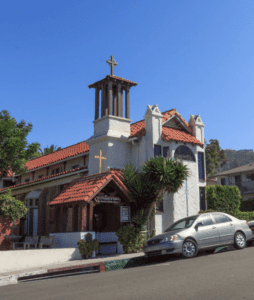 Photo Courtesy: Shutterstock.com
In 1933, Long Beach suffered a devastating earthquake. Out of the rubble, workers salvaged bits and pieces that would quickly become St. Francis by the Sea. The Guinness Book of World Records states that it is the second smallest cathedral in the world, with a grand total of only 42 seats.

Laguna Art Museum  
Photo Courtesy: visitlagunabeach.com
Did you know the oldest museum in the State of California is right here in Laguna Beach? The Laguna Art Museum is the host to works by California artists only, making it unique in the state. The museum has a rich history, as it was formed by local artists in 1918 and by 1929 it had raised significant funds and opened a grand custom-built gallery, which is still contained in the present-day structure, known as the Steele Gallery. The museum is located on one of the busiest streets of any coastal town and only 300 feet from the ocean. It is a spectacular museum with an impressive view.
Sawdust Art & Craft Festival
Like the museum, the Sawdust Art & Craft Festival showcases and promotes local artists. Toward the end of June, it will open one of its two main events each year. The festivals attract more than 200,000 visitors. You can shop along sawdust-covered paths through a handcrafted village of exceptional art and craftsmanship. You can also enjoy live entertainment on three stages, and catch artist demonstrations as well as participate in hands-on art workshops.
June 29 – September 2nd
10am-10pm
When you live, work, and play in Laguna Beach, there is always something waiting to entertain, educate and inspire. If you are thinking about making Laguna Beach your home, contact us at The Stavros Group so we can help you find the home you've always wanted!